Ref:
Date:
Location:
Photographer:
[clikcontent type=paymentBuyLink replaceable=true]
Ref:
Date:
Location:
Photographer:
[clikcontent type=paymentBuyLink replaceable=true]
the elves
This is a project that grew out of 'Bodging Milano'. After the successful exhibition of the 'bodged' (ie handmade greenwood) chairs in 2010, some of us in the group continued to meet up for impromptu making sessions.
Although we were no longer in the woods, we had somehow retained the 'bodge' way of thinking. The risky craft approach and the three-dimensional 'sketches' produced by quick experimentation, seemed now to be a good way of working. After a fruitful three-day workshop at Sitting Firm Chairmakers, we decided to find other manufacturers who would allow us to work in their factory whilst the main workforce was away, and see what came of it.
William Warren knew someone at Lloyd Loom and before long he'd got an invitation from their directors for five of us to go up to their factory in Spalding and spend three days with them. We called the project
The Elves and the Chairmakers
after the children's story in which some cheeky elves sneak into a cobbler's workshop when he's not there, and produce new designs. The Lloyd Loom process is fascinating - all the 'weave' is produced in Spalding by wrapping Kraft paper around thin wire, and weaving this on giant industrial looms to form their characteristic chair covering.
We 'elves' made a variety of beech frames from standard and modified components, and a couple of Lloyd Loom craftsmen helped us put on the weave. In three days we had produced thirteen new chairs. Lloyd Loom were pleased with the results and exceeded our expectations by deciding to take one design from each of us for further development. They plan to launch three or more of these in 2013 as additions to their range. Our
ex tempore
performance was working - we had successfully short-circuited the normally long and tedious briefing, design, and negotiation processes associated with designing for industry.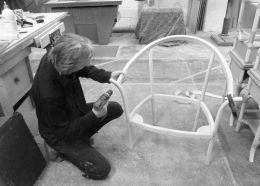 My design is shown here. It's much in the style of Lloyd Loom but the back rail has a parabolic curve, the weave is put on the inside to expose the beech frame, and unlike other LL chairs - the frame rails are bowed.
The other elves are : Amos Marchant, Carl Clerkin, Gareth Neal, and William Warren.
In 2014 the John Lewis Partnership selected my Spalding chair as one of a small group of classic chairs to be produced in special finishes for their 150th Anniversary celebrations.