Ref:
Date:
Location:
Photographer:
[clikcontent type=paymentBuyLink replaceable=true]
Ref:
Date:
Location:
Photographer:
[clikcontent type=paymentBuyLink replaceable=true]
Devon chair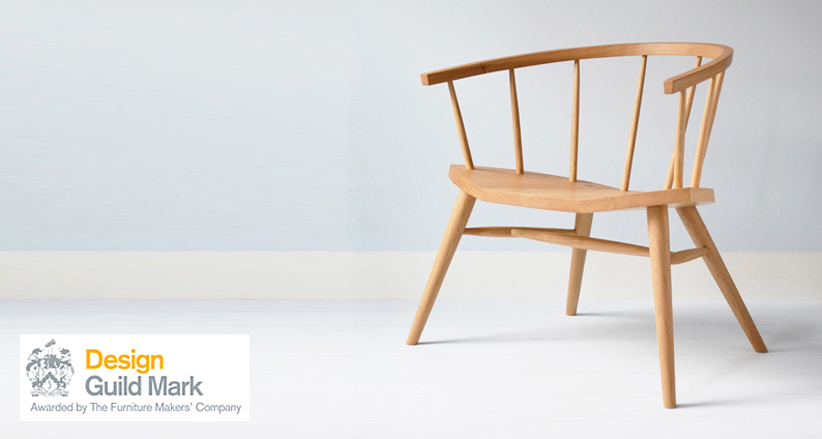 The development of this chair had its beginnings in a Bodging Project event put on in 2011 by Carl Clerkin, William Warren, and myself, which we called
The Great Windsor Chair Race.
This took place at the invitation of Sarah James, the organiser of the
Contemporary Craft Festival
in beautiful Bovey Tracey in Devon. The 'race' was an ad hoc demonstration of experimental Windsor chair making, to see who could make the most, or the most interesting chair during the three-day event. (William won of course - but only on quantity!)
One of my pieces was this chair. My idea was to make a wide, low, comfortable chair, suitable for relaxing rather than dining, but generally of the Windsor type - that is - a chair whose legs and back spindles fit securely into a solid seat. As we didn't have a steam bender on site the back bow was laminated from thin strips, and to save time on hollowing the seat I cut out the shape, then cut it into three, angled the edges, and glued the pieces back together to create a comfortable form. As I made the first chair in Devon, this became its name.
Later on Dave Green from Sitting Firm Chairmakers saw this chair, liked it, and offered to put it into production. The bow and spindles were in English Ash and the seats were Scottish Elm. This chair proved to be very popular and subsequently I designed a two/three-seater version - the
Devon Bench
(shown left) which was launched at London Design Festival 2012. Once in production the design was awarded a Design Guild Mark by the The Worshipful Company of Furniture Makers. Each year they make a small number of these awards
to reward excellence in the design of furniture in production.
'By the award of the Guild Mark' they say, 'the designers receive due recognition, and the industry is made more aware of the importance of investment in design. It marks and rewards the work of the finest designers working in Britain and the best of British designers working abroad. Numbered Design Guild Marks are awarded to the designers of pieces or ranges of furniture in production for retail or contract sale which are judged to achieve excellence in respect of the criteria.'
In 2015, to complete the refurbishment of their Livery Hall the Furniture Makers Comany included a pair of ebonised Devon chairs in their reception area.
Bodging goes Establishment! (The occasional table is by Mark Gabbertas.)
Followng the demise of Sitting Firm Chairmakers in 2019 and then the Covid lockdown the following year, I decided to go back to making small numbers of these chairs myself.
As of April 2021 the Devon chair is available from the
New Craftsman Gallery
in St. Ives, Cornwall, one of Britain's leading galleries.