Ref:
Date:
Location:
Photographer:
[clikcontent type=paymentBuyLink replaceable=true]
Ref:
Date:
Location:
Photographer:
[clikcontent type=paymentBuyLink replaceable=true]
Lloyd Loom
My
Spalding
chair for Lloyd Loom is another product that has its origins in the Bodging Project. William Warren, Gareth Neal, Carl Clerkin, Amos Marchant, and myself had the idea that the hands-on experimental way of working that we had discovered while 'bodging' could be a useful way of fast-tracking the usually long drawn-out process involved in design for production. William knew the people at Lloyd Loom and so we got ourselves an invitation to visit their factory over a long weekend to brainstorm some new designs based on their existing range of components. (We called this the
Lloyd Loom Elves
and there is more information on this in the 'bodging' section of this website.) The five of us came up with thirteen new designs over an intensive three days. Lloyd Loom were very patient with this disruption and even had some of their skilled workforce on hand to help with applying the distinctive Lloyd Loom 'weave'.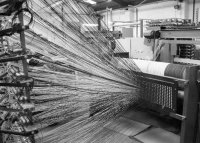 In the end it was impossible for them to go ahead with every design and only my chair made it into production. We exhibited everything at
Design Junction
and my piece was spotted by someone from John Lewis. So I drew everything up properly - no drawings are involved in bodging! - and then had it modelled in Solidworks (my old friends at Alphatech in Devon did this). John Lewis wanted the design ready for a collection they were putting together as part of their 150-year celebrations in 2014. My design moves things forward from standard Lloyd Loom in that it has an English Ash frame (instead of Beech) which is constructed using mortice-and-tenon joints (instead of dowels and screws). It
looks
Lloyd Loom, but in fact it is on a more generous scale than their other products. The frame is polished but unpainted to provide a contrast with the blue-grey weave.
Other chairs in the collection were re-workings of classic designs from Ercol, Vitra, and Parker Knoll (see below).